11.2 km In the last 20 days
11.2 m In the last 20 days
11.2 BPM In the last 20 days
11.2 min In the last 20 days
I just finished a 8.696km running that lasted about 0hh:50mm:6ss !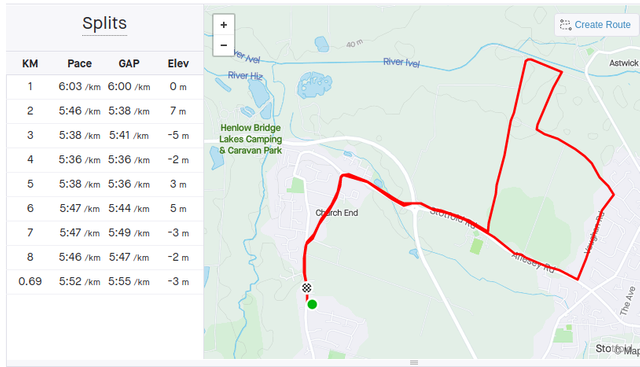 I would generally have run this morning, but the weather was not great and I was still feeling the effects of my weekend long run. A few hours later it had dried up and I felt a bit better, so decided I could still do one. This might count as a recovery run , but I just go with what feels right. I was not aiming for any particular pace.
I set out of Arlesey along the cycle path that was mostly empty and then turned to take the wide track across the fields. I was thinking I would pick up the one that comes out at the top of Vaughan Road in Stotfold, but I went past that. I did not particularly want to go all the way to Astwick, so turned down what was just a tractor path between the open fiends to join the track I wanted originally. I do not think I have been that way before. This takes me all around the new Pixbrook Academy which has only just been completed.
I came back via Stotfold to join up with my outbound route. I took the shorter way home as I had already gone further than I intended. I had been thinking it would be about 7km, but it is no problem to go further. What is surprising is how consistent my pace was in the latter stages. I usually tend to speed up on the second half, but I think my legs are still tired and had had enough.
I had a shower and then lunch of toasted sandwiches. I will probably run again on Thursday, but will be watching the weather to try and avoid the worst of the rain.
Run free and stay well. Check out some detailed info at my EXHAUST page Join me in testing out EXHAUST !
| Referral | Visitors | |
| --- | --- | --- |
| Facebook | 1,480 | |
| Facebook | 5,480 | |
| Google | 4,807 | |
| Instagram | 3,678 | |
| twitter | 2,645 | |