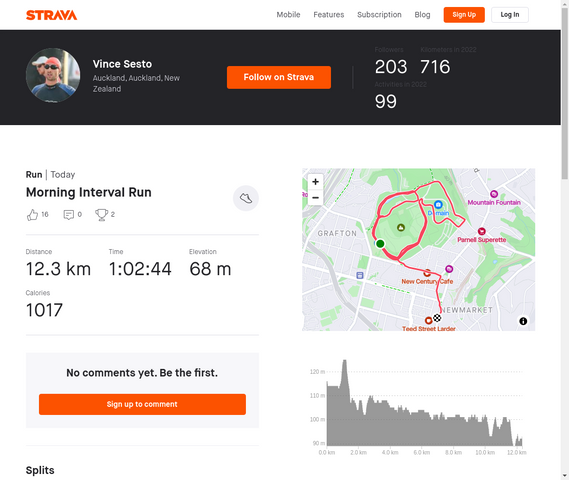 run.vince.run just finished a 12.36km run, that lasted for 72 minutes. This run helped run.vince.run burn 1016.3 calories.
Description from Strava: Another interval run this morning that left me almost spewing at the end. It was a pretty cool morning at about 6 degrees Celsius when we first started but there was almost now wind so it was easy to warm up quickly enough. It has gotten cold so quickly, I can't remember what I used to wear last winter to keep warm. Today's interval session included lots of 1km repeats. - Warm up 2.5km easy run - Main Set(Repeat below twice) 1km steady, 200m recovery 1km fast, 200m recovery 1km very fast, 200m recovery - Cool down
The difference between the three one kilometer speeds should only be about 15 seconds. I think I was about 20 seconds off but another good workout either way.
If you would like to check out this activity on strava you can see it here: https://www.strava.com/activities/7132498204
About the Athlete: I am an Aussie living in Auckland, New Zealand and I love swimming biking and running with my fiance. I tell people "I wanna change the world, one run at a time".
This is an automated post by @strava2hive and is currently in BETA.
left me almost spewing at the end
Hope you recovered okay. Intervals are hard, but effective. It ought to be warming up here, but it's still cool. Always a challenge to get through winter though. !PIZZA
PIZZA! PIZZA Holders sent $PIZZA tips in this post's comments: @steevc(3/5) tipped @run.vince.run (x1) Learn more at https://hive.pizza.
I recon it takes a lot of fitness to push that hard and keep it all together !BEER