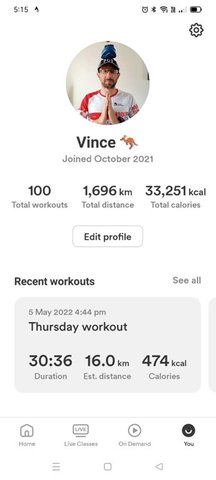 run.vince.run just finished a 4.17km run, that lasted for 27 minutes. This run helped run.vince.run burn 352.5 calories.
Description from Strava: I've been using Motosumo since October and it's been really enjoyable. I've hit my 100th ride, so it must be good. I've been using my spin bike consistently but nothing pushes me more than a spin class. I'd prefer to be doing the classes in person but these classes seem to be rare these days so I will take what I can. After my spin it was time for an easy run off the bike with Kirsty. The nights are getting colder as well. I think we've been really lucky with the weather this year so it's been a little bit of a surprise once the colder weather finally got here
If you would like to check out this activity on strava you can see it here: https://www.strava.com/activities/7128791700
About the Athlete: I am an Aussie living in Auckland, New Zealand and I love swimming biking and running with my fiance. I tell people "I wanna change the world, one run at a time".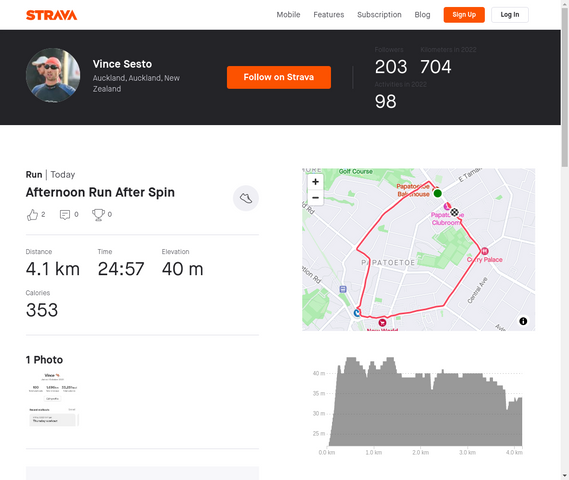 This is an automated post by @strava2hive and is currently in BETA.
nothing pushes me more than a spin class.
I love spin classes. The group mentality makes it so easy to push a lot harder than I ever would on my own. I haven't been to one in ages though because the city basically destroyed the fitness industry during covid lockdowns. Perhaps some of the gyms that remain will start those up again but I think that the companies that focused on just this as a business model are going to be very hesitant to ever re-open since they now realize that the government can just eliminate them if this was to ever happen again.