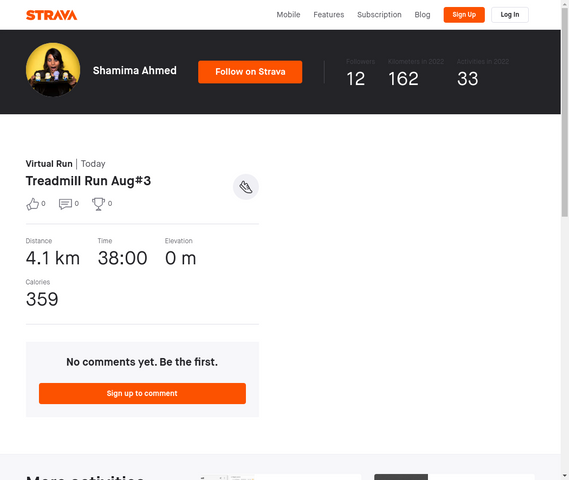 mimismartypants just finished a 4.1km virtualrun, that lasted for 38 minutes. This virtualrun helped mimismartypants burn 358.2 calories.
---
Description from Strava: @exhaust -engine
Squeezed in a quick run so I can get on with my work day. Seems like those fresh legs have worn off and these ladies are feeling the burn. Did a bit of a run walk and at least clocked at least 4kms. Will push for 4kms this week while I get over these aches and pains. Need to top up.on the L gultamine. Time for a quick stretch and shower then back to the grind!
We keep pushing!
---
If you would like to check out this activity on strava you can see it here: https://www.strava.com/activities/7574562334
About the Athlete: I run because i eat. And i eat because i run
This is an automated post by @strava2hive and is currently in BETA.
You're smashing your training at the moment and getting stronger every day. For the month of August 2022, the Strava2Hive leader board will be determined by "calories burned"! https://images.hive.blog/DQmNYafhCjpkKVmFD4os7BzV1F6hs4zDusvTtNiDDyGBz31/S2HLogo.PNG This Weeks Leader Board(Top 3): 1. @run.vince.run - 1461.0 Calories Burned 2. @alzee - 1318.0 Calories Burned 3. @dannewton - 684.5 Calories Burned
Still getting it done...Nice work