11.2 km In the last 20 days
11.2 m In the last 20 days
11.2 BPM In the last 20 days
11.2 min In the last 20 days
classical 8K [Exhaust Running Report, October 12th 2020]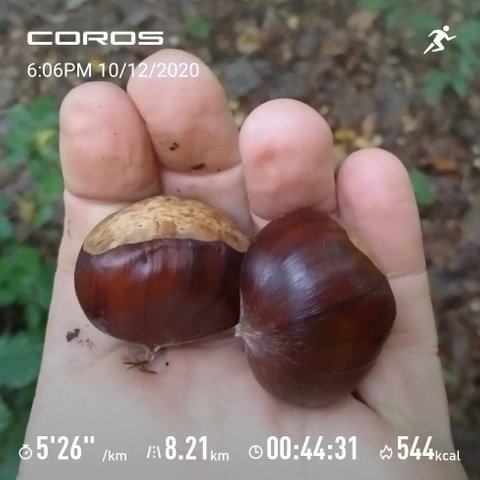 Monday afternoon, still during the daylight, asphalt, and flat run on the classical 8K loop which I ran many times in the past.
The pace was somewhere between, what I call, day and steady pace. Around 5:20. According to Strava, my net pace was 5:12 which is well within the day pace range. Good.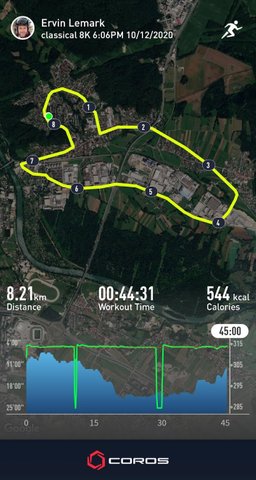 I still need to put in some distance runs yet I was in a hurry to come home for dinner with delicious mushroom soup.
Chestnuts? They are from another story.
---
All the physical activity data that I display in my @exhaust and @actifit reports is gathered with the help of Coros Pace sports watch and displayed with Coros app.

---

Join Actifit program, stay fit and earn crypto - STEEM, AFIT, AFITX, PAL, SPORTS, ... Vote for Actifit as a Witness Official Actifit links: Discord | Website | Android app | iOS app | FAQs | Text Tutorial Disclaimer: I am a long-time Actifit user and ambassador for the program. Please, ask me anything about it.

Better and better
---
Check out some detailed info at my EXHAUST page Join me in testing out EXHAUST !
| Referral | Visitors | |
| --- | --- | --- |
| Facebook | 1,480 | |
| Facebook | 5,480 | |
| Google | 4,807 | |
| Instagram | 3,678 | |
| twitter | 2,645 | |