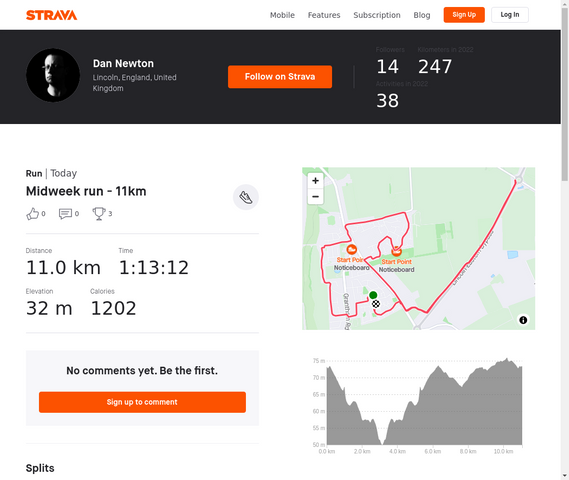 dannewton just finished a 11.07km run, that lasted for 74 minutes. This run helped dannewton burn 1201.6 calories.
---
Description from Strava: Oh man, such a relief to get outside and do something interesting after such a boring day at work. The software we use for all the finance/ledger stuff basically refused to load up this morning. With the whole system out of action, all I could do was some generic admin stuff. After a couple of phonecalls and sorting through some paperwork, I spent the rest of the day watching the clock.
At 3.30 it was apparent that the issue wasn't going to be fixed today. We were given a choice to finish early, and as I was already working from home today it was an easy decision to make.
Today's route was a bit of all sorts... First I headed out along the bypass, then I turned back and headed towards the village, and then I did a loop around it before heading home. The aim was for an easy 10km, and I ended up with an easy 11km by the time I returned home.
Weather-wise it was rather warm in the sun, but not unpleasant like a few weeks ago, and in any case there was a gentle breeze which helped to stop me over heating lol.
Now for a quick shower and then something tasty for tea (I think my partner is cooking spaghetti bolognaise)
Tomorrow hopefully will be a more productive day, and then it'll be Saturday which can mean only one thing... parkrun! 😁
---
If you would like to check out this activity on strava you can see it here: https://www.strava.com/activities/7582656121
About the Athlete: Living in the UK, I am an intermittent Runner, but always striving for more consistency. When I'm not training I can be found photographing insects or listening to really loud angry music (which is the best type of music obviously!)
This is an automated post by @strava2hive and is currently in BETA.