Spinvest's weekly earnings and holdings reports #23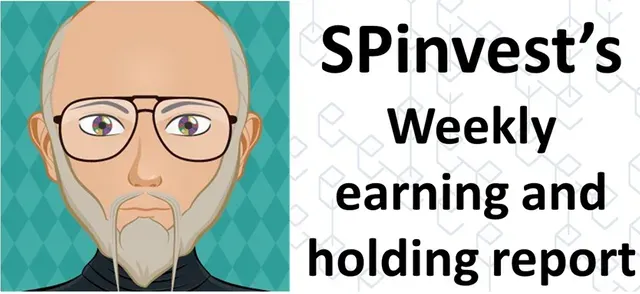 Hello, SPIer's. Today is Sunday and we end the SPI week with our weekly dividend payment this evening and every Sunday at 21.00 GMT.
What is SPI? SPI tokens are growth investment tokens that pay a weekly dividend. They have been circulating for over 2 years, on ~~STEEM~~HIVE. Mostly sold for 1 HIVE, each token today is worth over 4 times its HIVE issue value and 23x its dollar value. On top of that, token holders receive roughly 8% more SPI's every year from weekly dividends. We raised $13k from issuing SPI tokens for the first year which has been used to grow a diverse portfolio of investments, many of which provide streams of passive incomes. SPI tokens are part ownership of all SPinvest tokens/accounts, assets and income. The price of each SPI token is its liquidation value as SPI tokens are 100% backed by holdings. Handcapped to roughly 94,000, no more can be minted are issued. Adding, hold and compounding has us on the road to major growth and these tokens are still growing in value.
SPI tokens are part ownership in an actively managed fund. We have our hands in over 20 investments with the lion share being HIVE, BTC & ETH. We dont FOMO are chase pipe dreams. Tried and tested works best and is safest. Our motto is "Get rich slowly" and compounding down on sound investments is our game. You should invest in SPI tokens with the mindset of not selling for 3-5 years minimum. Let's have a look at this week's on-chain HIVE earnings.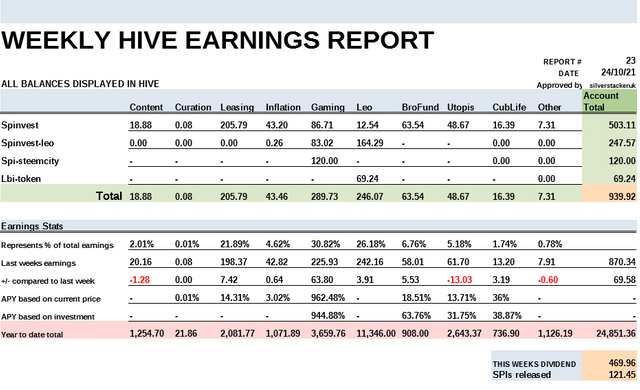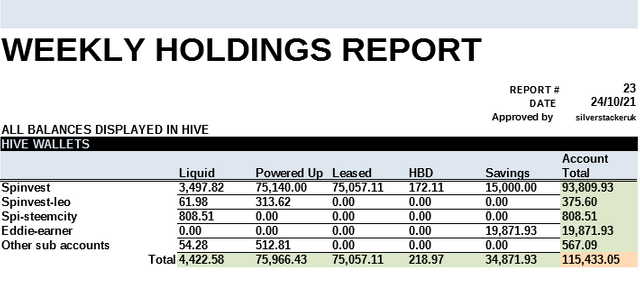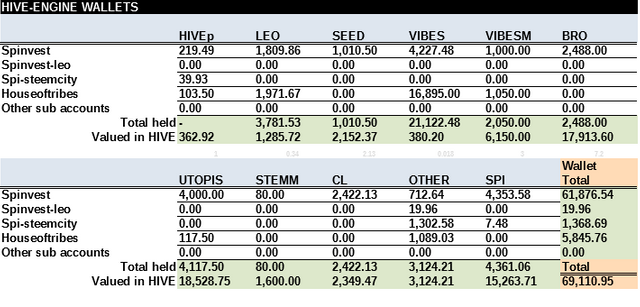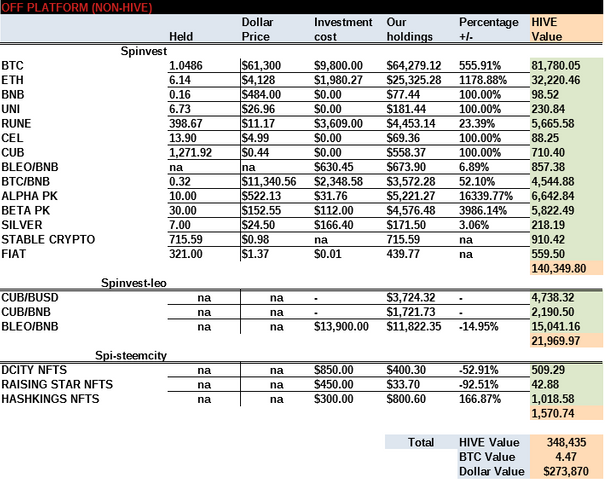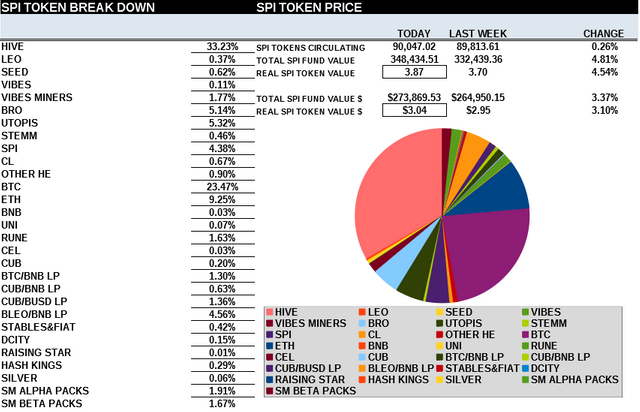 It has been a fantastic week for crypto's and our bags are pumping. Each SPI is worth just over $3 each so well done to those that bought them for when they were under 15 cents each. As we head further into this second half of the bullrun, I'd think we'll top out at over $500k. Of course, HIVE would need to do something special and hit $2+ but ALTs are known for being late to the party.


Thank you for taking the time to read through this weeks SPI earnings and holding report. We post every Sunday to keep our investors up to date so please follow the account if you would like to track our progress.
Posted Using LeoFinance Beta
Wow it's my first time if hearing about such tokens. Thanks for the update and keep the good work moving
Splinter lands wasteland really paid off for me today. (wasteland because I get frustrated and annoyed playing the daily quest). I ended with just under 27 Hive on Hive engine and with the other small drips and such, I was able to accumulate 28 Hive for re-distribution. So EDSM was slightly on sale at 9.9 so getting my 12th EDSM, one a month, goal accomplished if the buy request goes fully through. Also added 0.321 to my ARCHONM's, I was very tempted to go all in on it alone as the price is pretty good right now, but I did manage to hold out, although it was not easy. So SPI wise I was able to add 2.5 more so am now at 125 SPI, getting closer to that 150 goal and if I manage to get close to 20 Hive next sunday by airdrop and vouchers from splinterlands the majority next week will be SPI and a little heaping of BRO. Slowly the holders grow . Hive-Engine say Est. Value: $832.79 USD I'm pretty ahppy with my holders I have chosen.