ONEUP Liquidity Pools are the sweetest on TribalDex
1UP community makes the right moves at the right time and while this tribe is fresh like the hot breath they moved quite fast and covered all the basis for the community needs: liquidity. Without liquidity, you have low trading volumes and the interest of the users vanish quickly. Being a community anchored in blockchain gaming, they've played it smart and created also a Liquidity Pool pairing ONEUP with SPS, the governance token from Splinterlands. But let's see the available pools and the returns that these bring through amazing rewards incentives.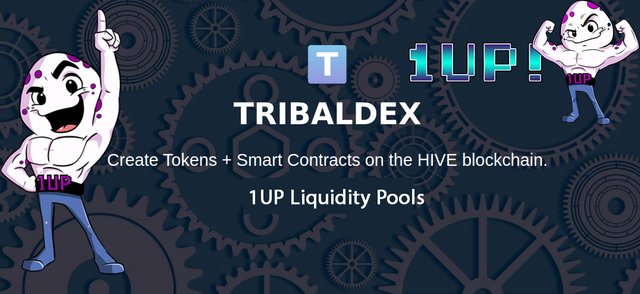 The first pool is the ONEUP:HIVE as we would normally expect and it offers an APR near 316.875%. The rewards will be raining upon all providers for 90 days while remaining 80 days at this point. Rewards are paid daily and the pool has a depth of $2,430 which is enough for the current user's action.

The second pool is the ONEUP:SPT and it taps into the greatest blockchain of the moment on Hive blockchain and beyond - Splinterlands. Paired with the governance token of the game (SPS) is the best option considering that this token is the one that powers and empowers the users holding game assets. Here we have a crazy APR of near 653.541%. The rewards are provided to the participants also for 90 days and there are still 80 days from this point going forward. The rewards are paid daily as well and the pool has a depth of $1,178 which is good enough, but I would expect for it to grow in time and maybe even surpasses the ONEUP:HIVE pair.

ONEUP Liquidity Pools are available through TribalDex and BeeSwap interfaces and you can Add Liquidity, Remove Liquidity and Check Your Positions for the paired assets. This gives strength to the 1UP community which understood the necessity of liquidity and create one, even before establishing itself in the space. There are other communities that are not yet offering LPs and are losing from it, so seeing this early in the game I think it brings important benefits for the end users.
Posted Using LeoFinance Beta